Britney Spears there is a lot to say when it comes to Jamie Lynn Spears!!
The singer took to Instagram Tuesday afternoon with a couple of scathing messages about her younger sister and their mother Lynn Spears. In a long caption in the IG posted next to a photo of gourmet hot chocolate (yum!), The singer seemed to challenge some of the stories. Zoe 101 the presenter told the press amid the release of her new book, What I had to say.
Related: Rachel Zegler apologizes for dramatically reading Britney Spears' tweets to Jamie Lynn
She begins a remote post in the IG dedicated to her breakup Justin Timberlake and comparing her childhood with her younger sister, writes:
"I flew home to Jamie Lynn on the couch and watched her TV shows right after Justin and I broke up … I was a ghost there !!!!! I've worked all my life and I didn't know how my mom served me … Sit down and I'm served chocolate milkshakes with perfectly crushed ice with secret sugar, and Jamie Lynn is 12 years old, she spends hours watching TV then goes lying on the raft by the pool … I am shocked because it has never been in my life !!!! "
The 40-year-old continued:
"Justin's family is all I've known for years… Now things were different and Jamie Lynn had a new Nickelodeon show … All I remember is saying, "DEVIL !!! How the hell does a 12 year old teen get a Nickelodeon show ???? '… .. HMMMMMM…. Well, I never got my iced chocolate drink !!! I mean so … I've already grown up ??? "
On the topic: Jamie Lynn Spears refuses a book tour after the backlash
Britney then cuts off other women in her family, claiming:
"But then maybe I need a little support … It was the cover of People magazine … People are, and as Jamie Lynn says, I was scared !!!! Fuck, yes !!! My mom was taking painkillers and could barely keep the conversation at home because she and my dad broke up and she was more confused !!!! I remember her sitting on the floor talking and she never got up … and I'm sorry, Jamie Lynn, I wasn't strong enough to do what needed to be done … !!!!! "
OMG! Read the full post (below)!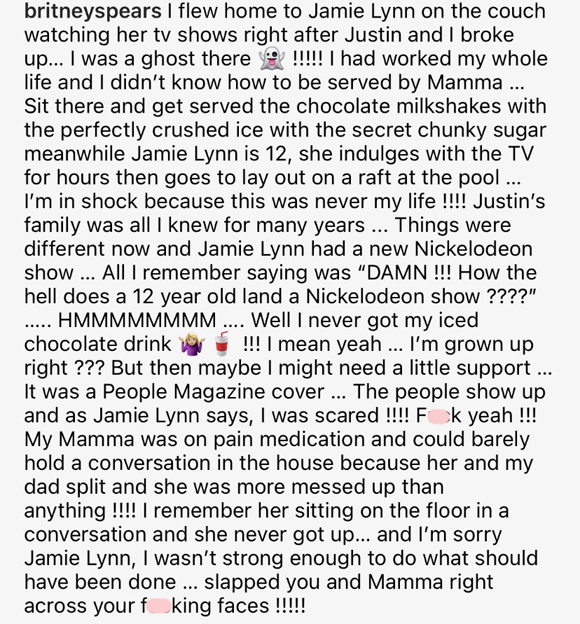 But that's not all! In another post, which begins as a support post for those who feel abandoned, she talks about how her family has developed her feel after the break, saying:
"In life, many say, 'Am I IMPORTANT ??' … try to eat alone for 4 months in the morning … at noon: … and Jamie Lynn 's night.
They ignored her in this house four months?? After such a big break? No wonder she holds such a grudge against them! And here you have Jamie, who writes in her memoirs about how she misses Britney after the split, saying, "I was so sad, first because my sister was so sad":
"I thought how painful it was for my sister when Cry me by the river came out. Don't get me wrong, they say it's a way to start your solo career, right? It's a way to do it, but I was very sad. "
Was she so sad that she had to console herself with ice cream and sunbathing by the pool? Britney's memory of the situation really puts this passage in a different context, doesn't it?
The Toxic the singer continues:
"Every day I asked myself:" WHO WILL BE REMOVED ??? WTF ??? DO I IMPORTANT ??? " Honestly, I would be very interested to see your beautiful face in the situation in which I was forced to be, and ask myself "DOES I MATTER ???" I didn't have time to cry … I had to be strong … TWO STRONG !!! "
She added for all the other people who feel abandoned:
"Yeah yeah … YOU'RE IMPORTANT, and you never think for a damn second that's wrong."
She did not delete it – I think she really believes in preserving this message.
It's easy to see how Jamie Lynn writes about being so sad for Brit can be interpreted as a kick, huh ?! Reactions ???
[Image via Judy Eddy/WENN & Britney Spears/Jamie Lynn Spears/Instagram]